Local SEO 2018 – Optimizing Your Business For Local Searches by Voice and Mobile Devices
In local SEO, (also known as local search engine optimization), we have been seeing forecasts of mobile devices overtaking desktop computers since the beginning of the last year and we are not surprised that the predictions have been superceded everyones expectations.
Last stat checks as of this writing were 63% mobile over desktop and laptop computers. It's hard to pin down an exact number for local SEO for 2018. But here's the stats for 2016 accoding to SmartInsites.com  It's even higher now from our research and based on our website visitors along with our clients websites.
The below stats are stagering, especially if your business isn't utilizing local SEO that's mobile friendly!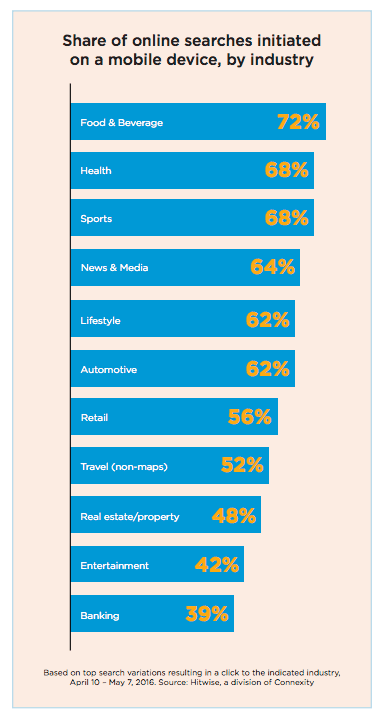 The contributions of Dag Kittlaus of the Apple Siri project and those brilliant engineers at Google have made searching by voice the natural thing to do.
We are under no impression that search remains the way it was. There have been tectonic shifts in the way people are using their voice in making the entire process easier.
So, what does that mean in terms of Local SEO or SEO at large for you business?
Remember that local searchers using their voice will not be thrifty with words.
In fact, videos posted by enchanted Siri users on YouTube, we have seen some users say a lot before getting their search query served.
The way Siri handles long tailed keywords is nothing less than a stroke of brilliance on the part of the founders.
Long tailed keywords have to be handled with precision and the challenge for Local SEO is to strike the right balance between long tailed keywords for voice search users and shorter ones that traditional searchers use.
What Changes after Voice Local SEO?
Right now as far as we know, the algorithm does not change a bit. The same mobile search algorithms are used after the words spoken by the searcher has been synthesized into written words and run through as if it came from a mobile browser.
Interesting huh?
Now, we must note here that spoken words could be put to words long before voice search came. The agent of change is the machine which 'understands' them.
At this point the machine is not yet fully refined and comes up with several interpretations of the same query.
This changes things a bit.
Local business capitalizing on local SEO now, more than ever, need to optimize for a bunch of possible outcomes instead of a single one, according to a search engine optimization service in Fort Collins, so you can get in front of your customers more effectively.
Voice interpreting techniques being used currently are yet to be refined to reach the sharp mind of the human brain, but Apple seems to be making improvements.
Meanwhile, Your Local business can do a few things to improve your local searches for your mobile users: 
Optimize for the main keyword with varying iterations ·
Creating more content with the same intent but with synonyms of the main keyword ·
 Use more social graphs because Siri uses these to find better results ·Use review sites to add positive reviews ·
Add local business details to the reviews and on the local business website ·
Take advantage of well performing long tailed keywords and change the structure of those that are falling behind.
A new industry, VSOP or Voice Search Optimization is coming up fast to cater to local business that want their websites optimized for voice search engines.
With Google jumping into the fray and Apple leading the race with their newer releases, we think that the day is not when voice search will be refined to replace traditional search entirely, but maybe when.
With that said …
Is your local brick and mortar business locally SEO optimized for mobile users and mobile voice search so you can get your fair share of local searches from your potential customers?
If not, you may want to consider one of these options:
You can retain the services of a company that specializes in building websites that are mobile friendly and responsive, that just so happens, are also highly optimized for local SEO.  That's the EASY Done for You Option
If you're the type of business owner that likes the "Do It Yourself option," or want to learn more about why your business needs and should be implementing local SEO, then you may want to read this article we recently posted.
You're ready to take the bull by the horns and pass the first two options… good news we have a local SEO guide to help you get started and do it yourself here.
Either option, it's important that you start implementing on local searches for every device, mobile, voice as well as the traditional desktop and laptop computers so you can get and inside business advantage over your competitors that are not. 
We don't claim to have all the answers, especially with all the changes that the search kings use to keep us all on our toes … lol  — but we are constantly in the trenches, getting are elbows dirty just like each of you.
Leave a comment below to let us know how your local listings and search rankings are going, or should we say climbing. Hope to see you on the first page soon.